We just love a happy ending! We strive to find the very best home for each and every one of our dogs. And after our buddies find new homes, we love it when we hear back that an old friend is doing great! If you've adopted with us, please drop us a line about how both of your lives have been enriched. If possible, include a recent picture showing your dog in his new digs!
Any dog that gets a new loving home is a success story but this was an easy one. She was so gorgeous and sweet. She definitely lived up to her name. Her foster mom wanted so badly to keep her but knew if she did, she would not be able to help another. Sweet Pea found a wonderful home with a big yard to play in and where she was the only "child" of a couple who have spoiled her rotten.
This Puggle came from a cramped city shelter that asked us to take him because he wasn't going to "make it" there. His foster thought he was short on looks but huge on personality. He never went up for formal adoption. One of the foster's relatives fell madly in love with him. He now lives around the corner in a fabulous home with a huge fenced yard and an owner that loves to take him for long walks. He is their "baby" and it would be hard to find a dog more spoiled as he is.
Fido was given up down south by a man who drove a tractor trailer and we have no idea why. He was hours short of being put to sleep when one of our local volunteers saved his life. He was transported to Rochester and a Duffys foster gave him a loving temporary home. This chi chi mix took a while to place because he was not "fluffy", but a couple came to see him and it was love at first sight. He shares his life with a couple, two grown children and two cats that do not let him get away with anything. Now he gets daily walks and loves them.
Poor Hershey was sickly, very shy and encrusted with flea eggs when he came to Duffy's. A local shelter asked us if we could find him a quiet home since he was not doing well there. Within a week of love, kindness, compassion and good food, he made an awesome recovery. He was bathed and groomed and you would not know he was the same dog that cowered in the corner of the sofa. We found a loving family that bonded with him immediately and continues to give him all the love he deserved. He was one lucky dog and we were happy to help him on his journey to his forever home.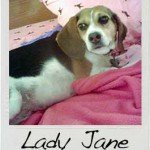 Here is a very nice picture of Lady Jane, our very special beagle. As previously stated, she was adopted from Duffy's Friends on August 31, 2010 and has been an absolute treasure. She always is attached to us (especially Deb!) and is extremely spoiled with many, many stuffed toys. Rarely is there a shopping excursion without a gift purchase for Miss Beagle! At times we do not know who rescused whom…she is a joy in both our lives. Thank you for rescuing her!
Kitty had been in the shelter over 10 months when the shelter begged us to take her. Fast forward 3 years and below is a beautiful note from Jennifer who adopted our dear Kitty.
She passed the test as a therapy dog, but we decided to give her more time to adjust to life with a family before starting to give others therapy. She had such a tough start at life, we decided she needed some time to just be a dog. I plan to bring her back through the class in the fall and re-certify her. She comes for runs with me regularly, and can do up to 6 miles comfortably with me. Her and Cadie, our other dog, are best of buds. They play together, eat together, and keep each other company. She is an awesome dog, and we were lucky to find her.
Throughout the years of rescue you remember the stories that rip your heart. This is the story of Toby and Amanda who found each other and will soon be moving to New Zealand.
Toby was about 1 years old and picked up on the streets with apparent abuse. Was he kicked in the head? Is that the reason he could not see and tried to bite anybody who picked him up? We will never know but with no chance of getting out of the shelter we decided to give him a chance at finding a home. We sent him to the best dog trainer that Rochester has and she worked with him for many months. She could do no more and asked if her assistant dog trainer would take him home and foster him for us.
He went to live with Amanda's family and it was his lucky day that he did. Toby still reacts with biting but he loves one person and that is Amanda. She is finishing high school and will be leaving to go to New Zealand soon to continue her studies. Toby is going with her as Amanda is the only one that can pick him up or do anything with him. His love for Amanda saved his life. He is now home and will forever be in Amanda's arms.
A very special thank you
Duffy's Friends thanks Pilots n' Paws for all the good work that they do, flying dogs to us from high kill shelters. It is an organization of pilots who care and spend their entire day flying pets in need to safety.